Jetfirepack
About the game
Your goal is to escape the cave. Using a controller or your keyboard, you must use your jetpack to fly, but be careful, it will overheat! Simply rest on your feet and wait for it to cooldown. Be mindful when using your jetpack, as it can change the environment quite irreversibly!
Made in about 2-3 days, part of it live on Twitch!
Theme: The jetpack changes everything about the environment
PS: Sorry for the big project size. Godot did something weird and the size got even larger as I removed or compressed stuff...
PS 2: The fire shader on the title screen is not working with the web version. If you want the best performance, use the desktop version!
Controls
Movement: left and right arrow or A & D or left joystick
Jetpack: space, or R2, A or B
Esc or start to pause
F1, R or select to restart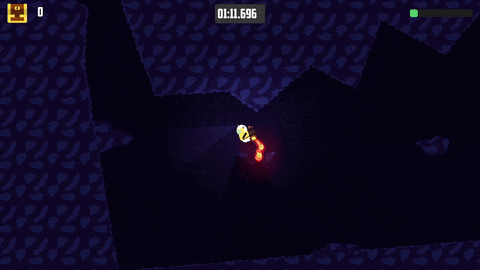 Credits
Game engine
Music
Art & code
Special thanks to the viewer on Twitch, for their ideas, advices and presence!
Socials
To create destructible terrain in Godot, use the Geometry class.
I made a video about destructible terrain and the Geometry class!
Download
Click download now to get access to the following files:
jetfirepack.x86_64
133 MB