LineEditPlus
A custom node addon bringing the power of Regex to the LineEdit node.
Features
Automatically restrain what the user can type in a LineEdit
Custom Regex
Predefined Regex patterns (Digits, Alpha numerical values, URL, email)
Run regex on line edit
How to use
Tick the Use Regex box and choose between a predefined pattern or enter your custom Regex pattern.
Prevent typing: The lineedit node will automatically remove the characters that are not fitting the pattern
If not using prevent typing, call run_regex() to validate the regex on the text of the lineEdit. Returns true if text match the regex
For example: If you enter a Digits only Regex, all the non digits characters will be removed when the user types them.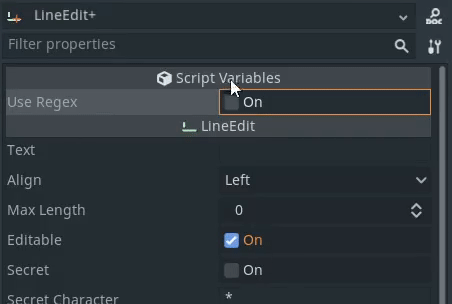 Example
Running the EMAIL regex

How to install
Extract the line_edit_+ folder into the addons folder of you project (create one if needed).

Then head to Project Settings > Plugins and enable LineEdit+. You can now add a new node and select LineEdit+ instead of LineEdit

License
This addon is distributed as-is, with an MIT license.
Download
Click download now to get access to the following files: